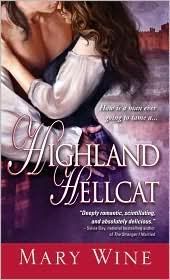 Highlander, book 2
Genre: Historical romance
Pages: 384
Published: October 2010 Sourcebooks Casablanca
In the raw, rugged beauty of the Scottish Highlands, tumultuous times bred warrior men and women who fought for country, keep, and kin, and loved as passionately as they lived. An illegitimate son, chosen as laird after the ruling Douglas clan slaughtered his family, Connor Lindsay is surrounded by men who challenge his right to lead. Looking for a virtuous bride to cement his leadership by presenting him with an heir, he kidnaps a feisty laird's daughter. To keep this Highland Hellcat in his bed, he'll have to do battle with the Douglases, the Church, and most of all Brina herself.
This is book 2 in a series of highlanders, but you can just jump right in here. The hero in this book is mentioned in book 1 since he is a friend of that hero, but the couple from book 1 is not mentioned here. Only the hero that will be in book 3. So, no OCD troubles, you all know I like to talk about that.
Connor Lindsay is planned to marry Deirdre Chattan, but she has been naught and he is upset but still need the alliance but without people doubting if his children are his. So he does what every good highlander would do, kidnaps her virtuous sister that is on her way to a convent. Sparks will fly.
Yay more bride stealing business, this one should be called the bride stealing series. I do like those rugged highlanders stealing brides, but only if they are nice to them. And Connor at once see that Brina is more than just a meek woman raised to be a nun, she can hunt, and she is a hellcat. But at the same time she has learnt nothing about men, and every touch makes her skittish. But who would not melt when a handsome man in a kilt sets out to seduce her, and he is so honourable too, he wants to marry her, but it's she who says no. She has promised her father to become a nun. I do like that it's he who wants her so much, and she who wants to keep that promise.
A lot of other things are happening too, her father is upset, a daughter of his must become a bride of Christ, one sister is not happy about her upcoming marriage, there is the Deirdre scandal (and she is the heroine of book 3, I wonder if her man will steal her away). A neighbouring clan has Connor's sister captive, and he fears they will attack his lands. But mostly it is a about a woman and a man, falling in love, finding passion, and trying to figure out how they can be together.
The negative part is the trouble I have with most Scottish Highlander books, the accent, kind of wish that would be skipped.
Other than that is was a romantic, and sometimes steamy book. It goes without saying, a highlander is a devil in bed. And a hellcat, she takes some time to be tamed.
Blodeuedd's Cover Corner. I like her, but he, nah not at all
Final thoughts: A good story about a highlander stealing his bride.
3,50