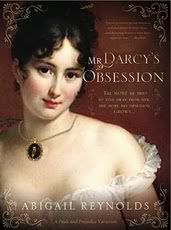 A Pride and Prejudice Variation
Genre: Historical/romance
Pages: 352
Published: October 2010 Sourcebooks Landmark
In this Pride and Prejudice variation, Elizabeth is called away before Darcy proposes for the first time and Darcy decides to find a more suitable wife. But when Darcy encounters Elizabeth living in London after the death of her father, he can't fight his desire to see and speak with her again...and again and again. But now that her circumstances have made her even more unsuitable, will Darcy be able to let go of all his long held pride to marry a woman who, though she is beneath his station, is the only woman capable of winning his heart?
I think it might be I who is obsessed with Mr Darcy, and this book is just just pure escapism.
In this one Mr Bennet died, the Collins' moved into the house, Jane married a shopkeeper to help out her family, and Elizabeth went to London to help with the Gardiner kids. Mr Darcy never proposed because Elizabeth left before he had time too. But Mr Darcy just can't her her out of his head. He sneaks around a bit and manages to meet her by "accident" one day, and they start talking. Some women you just can't let go.
Oh this book sure held a few surprises here and there, concerning secondary characters. I loved it because I never saw them coming. Reynolds takes artistic freedom and changes things that happened and make this story hers. While keeping to the Austen vibe. Without saying to much the surprises include Lydia, Georgiana, and a new character you will meet. She manages well there.
There are also new people, Charlie, a kid living on the street, and here Darcy does show his heart later on. Aunt Augusta who says what she wants, and Lord Derby, Darcy's uncle and a jackass. And of course there is Bingley, the Gardiners, and Jane.
I liked how Darcy sneaked around in this one and wanted to see Elizabeth and making it seem like total accidents. He just couldn't let go, and he was also a gentleman. She does fall, but of course there is that big Wickham hurdle to overcome. There is romance, aww, and a lot of drama with certain characters. I am sure you can guess who will cause the biggest scandal.
What I liked the most were the surprises, I just could not guess certain things. In some variations it's pretty easy and you know who will marry who, even with all those I have read. But this one brings something new. And as a Variation obsessed woman I enjoyed this book.
Blodeuedd's Cover Corner: Sweet
Reason for reading: From the publisher
Final thoughts: I always loved that he never gives up and wants her even though society frowns upon it.