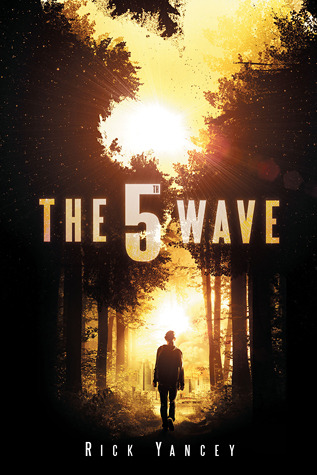 Title: The 5th Wave (The 5th Wave #1)
Genre: Sci-Fi, YA, Dystopia, Fantasy, & Romance
First Published: May 2013
Where I Got It: My shelf (Borrowed from friend)
After the 1st wave, only darkness remains. After the 2nd, only the lucky escape. And after the 3rd, only the unlucky survive. After the 4th wave, only one rule applies: trust no one.
Now, it's the dawn of the 5th wave, and on a lonely stretch of highway, Cassie runs from Them. The beings who only look human, who roam the countryside killing anyone they see. Who have scattered Earth's last survivors. To stay alone is to stay alive, Cassie believes, until she meets Evan Walker.
Beguiling and mysterious, Evan Walker may be Cassie's only hope for rescuing her brother—or even saving herself. But Cassie must choose: between trust and despair, between defiance and surrender, between life and death. To give up or to get up.
I'm not really into the alien invasion thing, but this was really good. I was rather entertained the whole time. It took forever to read, but there was so much going on I had to walk away and let my mind wrap around what I just read.
THIS is YA? Really? It felt like an adult novel. It was dark. GOOD, but dark. Honestly, it was what 'The Host' was suppose to be. Rick Yancey did a wonderful job with the characters, story, and the aliens. It seems a legit way for the aliens to involve. Kill us in 5 waves. Out of all the waves, the 5th wave is the sickest and most cruel wave. I can't really say, because that would be a major spoiler, but truly evil and a good idea to rid of some humans.
Why oh why can't humans and aliens co-exist!? Ugh.
At first I wasn't keen on the multiple POVs, but I eventually did grow to like it and it all made sense and it all was connected, so I am happy. The one thing I was "meh" about was the romance between Cassie and Evan. I don't think it was necessary and I feel that it was awkward and out of place. It did "work" you can say, but I think it wasn't needed.
Then there is the ending....I liked it, but I hated it. It was a HUGE cliff-hanger and so many questions left unresolved. Especially with Evan. I am tempted to move on in the series however...so that is a bonus point. I am curious to see what is to come next and I am rooting for the humans.
But yes...this is the best dystopia/Alien invasion book I've read in a long, long, LONG time. I am not a huge alien fan, but I was entertained. The story was fresh, the characters interesting, the story dark, and the ending left me wanting more. Honestly...it did not feel YA at all. It was too dark for YA. The romance was "meh", but it wasn't the centralized focus of the book, so I was okay with that. I highly recommend lovers of dystopia's to give this a go. And even those like me who are not fans of the genre to give it a try. Well...I shall stamp this with 4 stars.