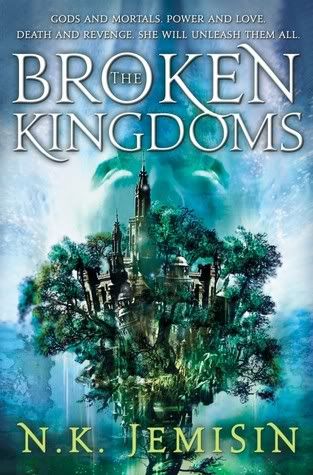 Series: The Inheritance Trilogy #2
Genre: Fantasy
Pages: 411
Published; 2011
Publisher: Orbit
Source: My own
In the city of Shadow, beneath the World Tree, alleyways shimmer with magic and godlings live hidden among mortalkind. Oree Shoth, a blind artist, takes in a strange homeless man on an impulse. This act of kindness engulfs Oree in a nightmarish conspiracy. Someone, somehow, is murdering godlings, leaving their desecrated bodies all over the city. And Oree's guest is at the heart of it.
My thoughts:
I will try to make this short. Book 1 was filled with what I felt was magical prose and seductive dark sentences. This book sadly was not. It was still a good book, but yes not as good as book 1. I did not root for the characters like I did with book 1 either, neither did I feel the deep ache I felt while reading book 1. I will still give book 3 a go because I hope the magic will come back. It was just so wonderful.
The thing that did not make this book as good was that the beautiful prose was gone for me. It was still a rich and wonderful world. Where godlings now lived among humans, and where so much had changed since the "emergence" of two new gods. She is still such a good storyteller. But for me, well sure I liked Oree, but I did not always care for Oree. And Shiny, no, sadly not for him either. The only person I did really like was the godling Madding.
So for me it is the case of 2nd book blues, still good, just not as great.
Conclusion:
I will try book 3, but only because I loved book 1 so much. Still this was a good book.