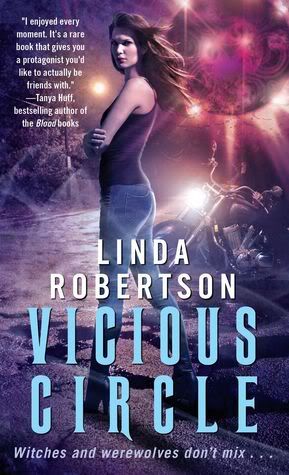 Series: Persephone Alcmedi #1
Genre: Urban fantasy
Pages: 384
Published: 2009
Publisher: Pocket
Source: My bookshelf
A girl's got to do what a girl's got to do....
Being a witch doesn't pay the bills, but Persephone Alcmedi gets by between reading Tarot cards, writing her syndicated newspaper column, and kenneling werewolves in the basement when the moon is full -- even if witches aren't supposed to mingle with wolves. She really reaches the end of her leash, though, when her grandmother gets kicked out of the nursing home and Seph finds herself in the doghouse about some things she's written. Then her werewolf friend Lorrie is murdered...and the high priestess of an important coven offers Seph big money to destroy the killer, a powerful vampire named Goliath Kline. Seph is a tough girl, but this time she bites off more than she can chew. She needs a little help from her friends -- werewolf friends. One of those friends, Johnny, the motorcycle-riding lead singer for the techno-metal-Goth band Lycanthropia, has a crush on her. And while Seph has always been on edge around this 6'2" leather-clad hunk, she's starting to realize that although their attraction may be dangerous, nothing could be as lethal as the showdown that awaits them.
My thoughts:
Oh no, it happened again. An UF book that failed to grab my attention, I can't seem to muster up my reviewing powers either. Instead I am pondering the sudden death of potatoes in my fridge. Well, they were old and had been there some time. Those poor things. I so planned to make them into a soup today. I did not just leave them there so I would not have to make fishsoup...or did I?
But ok the book then. I just do not know, it was the same old story. The heroine failed to make me care for her. Sure I liked her, but I did not care. I did not care for the hunky love interest either. The one thing that did make me care was when the wicked bad vampire showed up, oh he was fine and evil. I would have liked to see more of his dark seductive powers.
Therefore I can't say what made me find this book just ok. The story was fine. Assassination, weres in the basement, a hunky guy who she should go for even if he is bad boy. So it must be the people. A story can be wonderful but if I do not care, I do not like. A story can be bad, but if I still like the people, I like the book.
Conclusion:
Just not for me at this time-
Cover:
I do like the cover